Description
TEST DATA
Tomei starts with the very best in raw materials and takes it to the next level. This exhaust is about one thing and one thing only; performance. They have started by stripping the weight down to what feels like nothing compared to the stock exhaust. They did this by using titanium over steel and making the exhaust as straight as possible. Less bends means less materials used. They even went so far as to think about the extra weight regular style flanges add, so they went ahead and went with a weight saving spring and clamp setup.
So not only do you get the performance you expect from a Tomei product, you get the bragging rights too.
This design is suited for NA (Naturally Aspirated) engines. As the name 60S states, this will suit those who are mainly focused on street use performance. Best for those who are living in countries with strict laws about exhaust sound limits.
RACING LAYOUT
When aiming for true performance efficiency, we had chosen to design the exhaust with the least amount of bends as possible. Just like the true purpose built race cars, in a racing layout design, yet to still comply with the stock body design so it can be fitted to any street used vehicles.
TOMEI ※TYPE-60R MODEL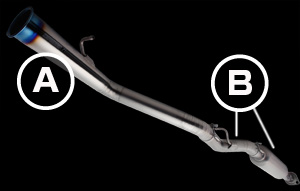 A: TAIL PIPE
Compared with the stock design, our design is single piping all the way for max weight reduction. We have also focused on the design of the muffler to produce the best exhaust sound without compromising performance.
B: MAIN PIPE
The piping has been designed for optimum size & positioning for performance gains. Focused on sports driving use, the flangeless style without limiting exhaust flow efficiency & to achieve maximum weight reduction.
Designed For True Performance Use

Lightweight (For total balance)
Optimum Exhaust Flow (To extract the engines full potential, will benefit greatly with additional tuning.)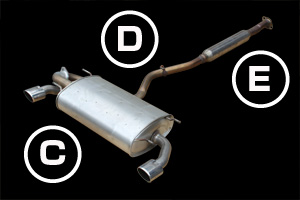 C: MAIN SILENCER
This is larger than the mid section, to help reduce noise, smog & exhaust emissions. Designed to comply with street use regulations. The internals are complex and very heavy which greatly hinders performance.
D: MAIN PIPE
Torque quality and sound are restricted. The piping layout is designed mainly to help reduce thermal damage to the surrounding parts.
E: SUB SILENCER
A pre-muffler setup that helps reduces exhaust noise. This further assists the purpose of the main muffler.
Inadequate For Real Performance Use

Heavy
Poor Exhaust Efficiency
IN CAR
EXTERIOR